This article will help you to set up whitelisting in your company with Office 365 Admin.
Why Whitelist in Office 365?
Whitelisting ensures the Wizer phishing simulation (PS) functions without issue and prevents PS emails from being automatically moved to the spam folder or notifying users about potential phishing emails. The Connection Filter Policy and Spam Filtering are both required to be whitelisted.

Whitelist Connection Filter Policy
The Office 365 Exchange Connection Filter that identifies good or bad
source email servers by their IP addresses. The actions below will allow all emails
from Wizer IP addresses to be received in email.
3. Then click on "Edit connection filter policy"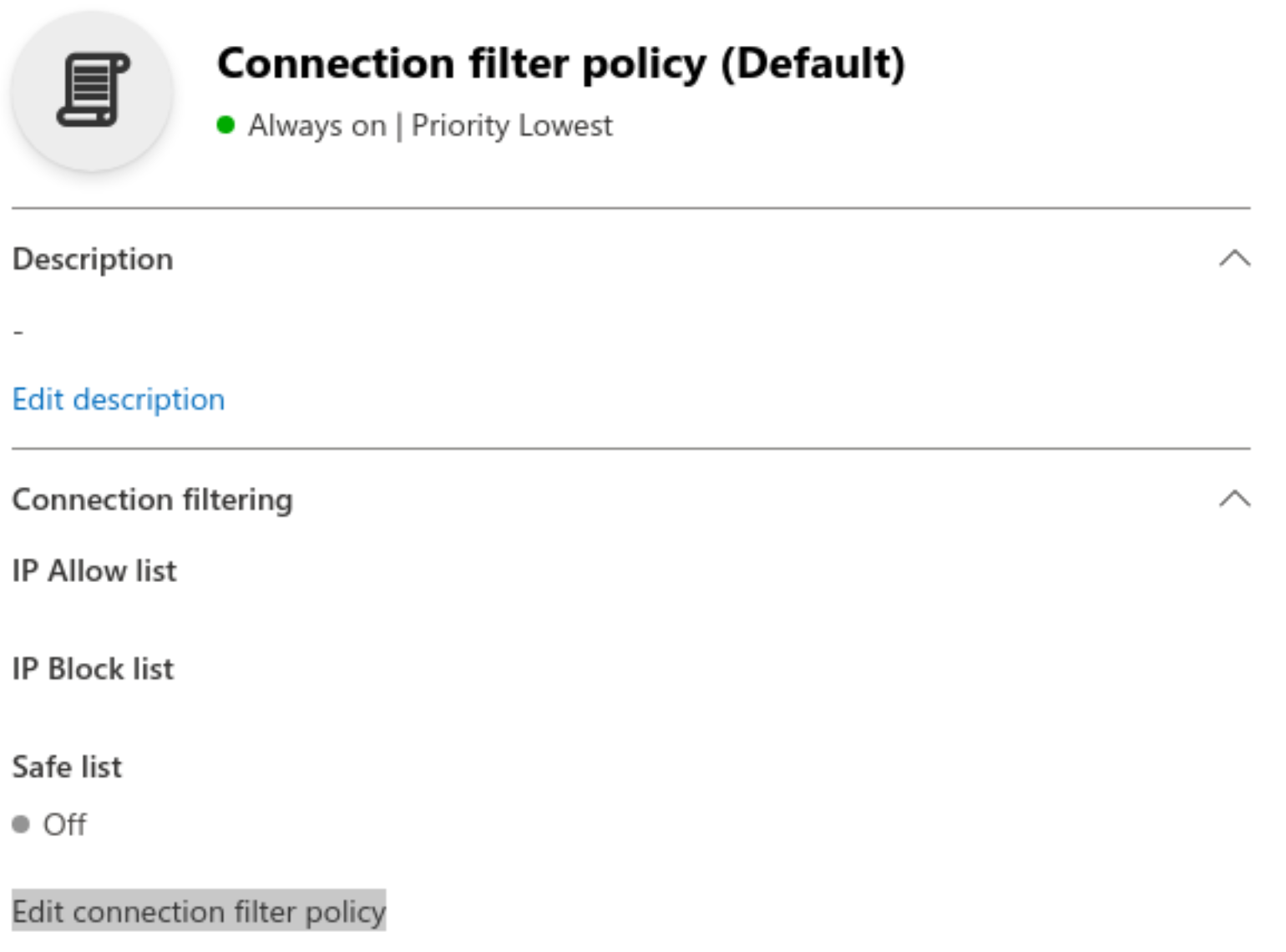 4. Add the IPs to the
"Always allow messages from the following IP addresses oraddress range"
input, one by one
from
this
list.
5. Click on the "Save" button below

Whitelist Spam Filtering
All mail systems have spam filtering. As the Wizer PS emails are "phishing: by definition, the Microsoft spam filter must be whitelisted. The steps below outline how to disable all spam checks for Wizer PS emails
so you won't experience issues with 100% clicked and 100% opened emails, even if the
users don't click on them.

3. Click on
"more options"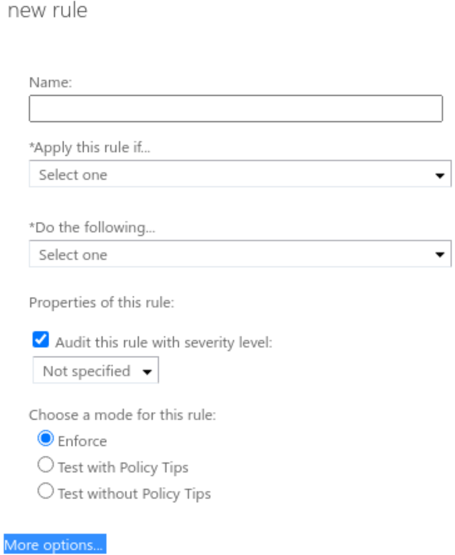 4. Give the rule a name, such as
"Wizer Spam Filtering"
5. Click on "
Apply this rule if → The sender → IP address is in any of these ranges orexactly matches"

Please do not forget to click on "Save"
7. Click on "
Do the following → Modify the message properties → Set aMessage Header"

8. Choose
"Enter text"
buttons by the right side of the
"Do the following"
field
and enter these values:
"-MS-Exchange-Organization-BypassClutter"
and
"true"

9. Click on the "Add action" button", you can see it on the screenshot above
10. Choose "
Modify the message properties → Set the spam confidence level (SCL)"to
... and select
"Bypass Spam Filtering"

11. Click on the
"Save"
button
12. Your final
Completed Mail Flow Rule screen should look like this: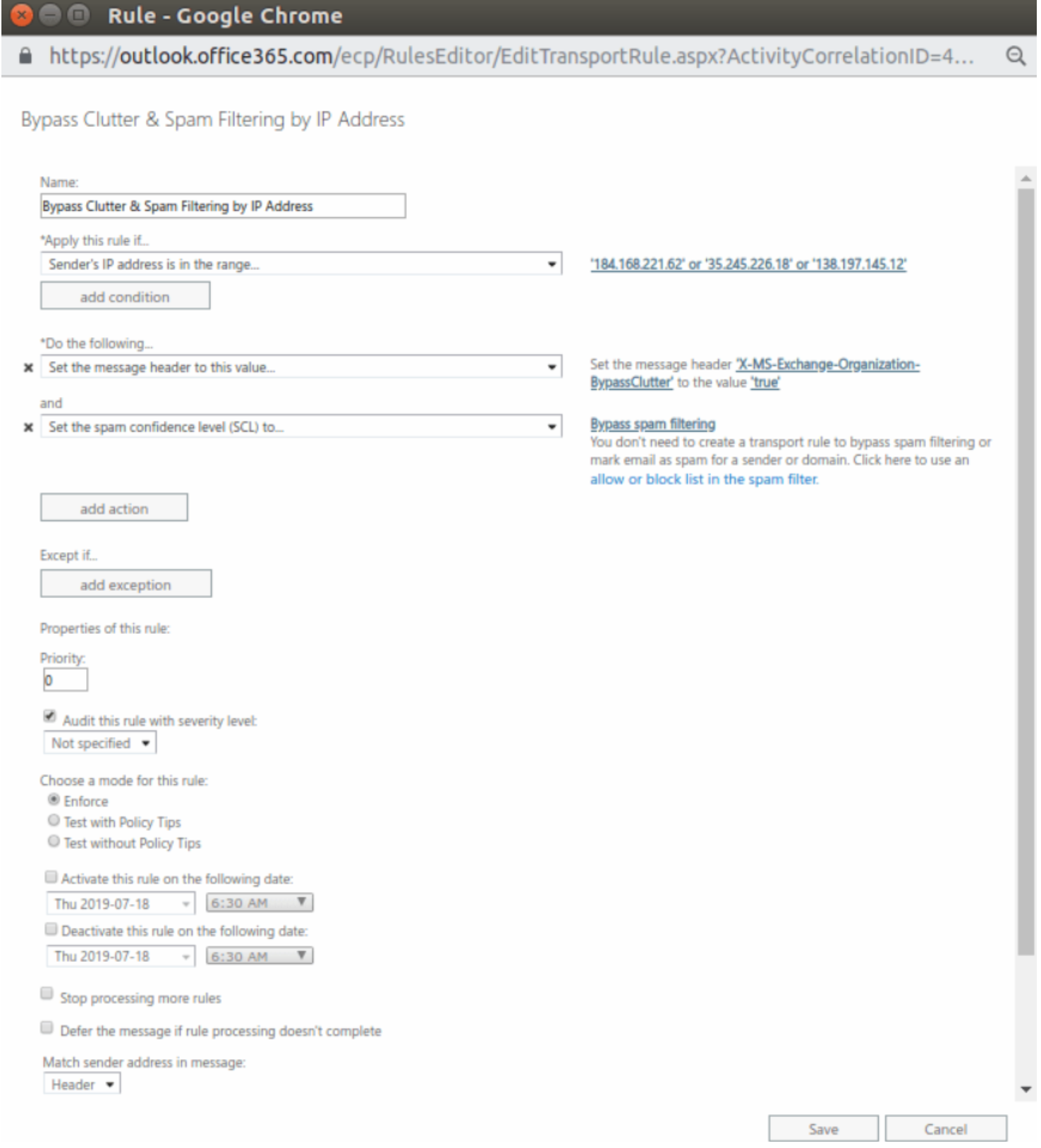 Congratulations! You have just configured whitelisting!